You£ªre Too Bling To See With This!
Stay GLAM Every Seconds, EvenOn Your Ride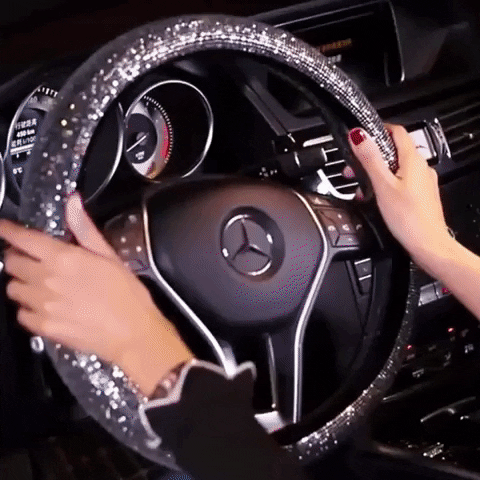 EASY TO INSTALL: It is very easy to install, due to rubber material used. Very easy to stretch to fit.
BETTER GRIP: A better grip on the wheel gives you more control on the road. TheCrystal Bling Steering Wheel Cover textures gives you better grip, resulting to

increased safety on the road.
HIGH QUALITY:

The crystal doesn't fall off. Materials used to glue the crystals are top of the line and reliable. They

will not hurt your hands

while you're holding the wheel.

LUXURIOUS LOOK: You deserve a fancy looking wheel cover! For the sassy person like you, the Crystal Bling Steering Wheel Cover is perfect. Reflect your fancy lifestyle with this fancy wheel cover!

HOW TO USE


1.Turn off the engine, make sure the
steering wheel keep fixed.
2. Put the steering wheel cover on the
top of steering wheel
, pull tight the steering wheel cover from top to about half both side.
3. Turn out the edge of the rest cover and keep it touching the steering wheel's edge, then keep
pulling tight the steering wheel cover from side to bottom.
4. Fix the bottom of steering wheel cover, then
rotate and adjust
the wheel cover to the best situation.
Product Specification:
Colors: Silver Crystal + Black Leather /Gold Crystal + Black Leather /Silver Crystal + Red Leather /Silver Crystal + Pink Leather
Size: 38cm Diameter
Package Includes:
1x Crystal Bling Steering Wheel Cover